Welcome to American Stair Treads

American Stair Treads brings you 28 years of stair tread expertise. We are proud to offer you the most comprehensive selection of high quality stair treads such as: rubber treads, vinyl treads, metal treads, stair tread risers and more. We specialized in both commercial stair treads as well as residential stair treads including carpet stair treads and waterhog stair treads. We welcome the opportunity to help you with any of your stair tread needs. Please contact one of our tread specialists for immediate assistance.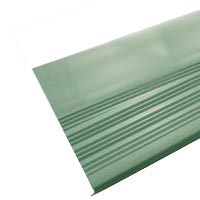 Vinyl Stair Treads offer long wearing capability and are an economic option for improving traction and slip-resistance on any stairway. These time-tested vinyl treads are made from a nonporous, abrasion-resistant vinyl allowing for easy cleaning. The surface of these vinyl stair treads has a corrugated rib pattern which helps remove dirt and debris and increases traction.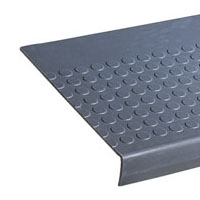 Rubber Stair Treads are molded of top quality, homogeneous rubber and designed for commercial and industrial use. Easily trim rubber treads on site to the exact size of each step. Tapered nosing insures a better fit while the smooth rear border allows for easy cleaning and maintenance. Ideal for use in heavily traveled public stairways including office buildings, condominiums, apartment buildings and retail stores.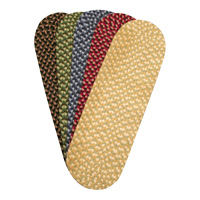 Residential Stair Covering are stair treads ideal for everyday home use to beautify stair cases and improve traction on hard surfaced stairs. These treads are not permanently adhered to the stair's surface; instead they are simply laid down with stair tread tape and ready to use. Residential stair coverings are available in a wide variety of carpet materials and designs as well as solid rubber for use outdoors and in garages.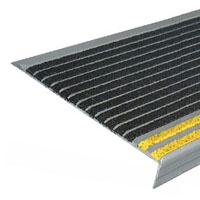 Aluminum Stair Treads contain diamond-hard, aluminum oxide abrasives that are bonded to heat-treated aluminum to form the most rugged outdoor metal stair treads. Ideal for use in the most heavily traveled outdoor public stairways.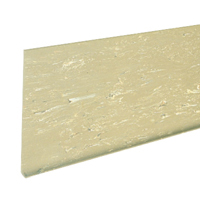 Stair Tread Risers and Stringers are available in both vinyl and rubber varieties and offer a smooth texture that matches all of our solid and marble colored rubber and vinyl stair treads. Both the length and height of these stair risers can easily be cut to fit.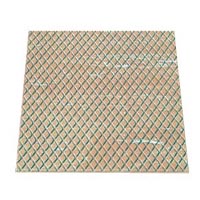 Rubber Floor Tiles come in designs and colors that match our rubber stair treads and risers. These factory cut floor tiles can easily be trimmed to fit any landing, vestibule, elevator or stairwell. Ideal for use in heavily traveled public walkways.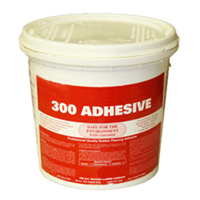 Several Adhesives are available to secure stair treads, stair risers and floor tiles to virtually any type of surface and offer different strengths, compounds and drying times and come in a variety of sizes. Nose caulk is also available.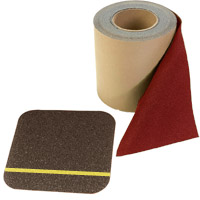 Anti-Slip Tapes improve traction on indoor/outdoor stairs, ramps and other locations where safety and slip-resistance are critical. Available in both pads and rolls in a variety of colors. Exceeds all OSHA, ADA and ASTM requirements.