Welcome to American Stair Treads

American Stair Treads brings you 28 years of stair tread expertise. We are proud to offer you the most comprehensive selection of high quality stair treads such as: rubber treads, vinyl treads, metal treads, stair tread risers and more. We specialized in both commercial stair treads as well as residential stair treads including carpet stair treads and waterhog stair treads. We welcome the opportunity to help you with any of your stair tread needs. Please contact one of our tread specialists for immediate assistance.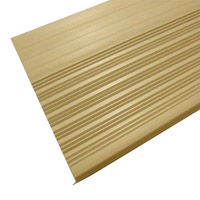 Vinyl Stair Treads offer long wearing capability and are an economic option for improving traction and slip-resistance on any stairway. These time-tested vinyl treads are made from a nonporous, abrasion-resistant vinyl allowing for easy cleaning. The surface of these vinyl stair treads has a corrugated rib pattern which helps remove dirt and debris and increases traction.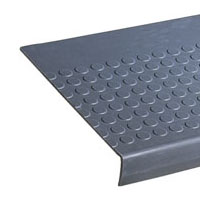 Rubber Stair Treads are molded of top quality, homogeneous rubber and designed for commercial and industrial use. Easily trim rubber treads on site to the exact size of each step. Tapered nosing insures a better fit while the smooth rear border allows for easy cleaning and maintenance. Ideal for use in heavily traveled public stairways including office buildings, condominiums, apartment buildings and retail stores.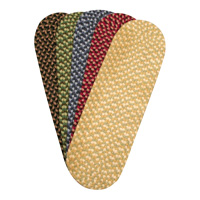 Residential Stair Covering are stair treads ideal for everyday home use to beautify stair cases and improve traction on hard surfaced stairs. These treads are not permanently adhered to the stair's surface; instead they are simply laid down with stair tread tape and ready to use. Residential stair coverings are available in a wide variety of carpet materials and designs as well as solid rubber for use outdoors and in garages.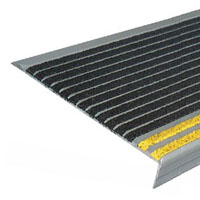 Aluminum Stair Treads contain diamond-hard, aluminum oxide abrasives that are bonded to heat-treated aluminum to form the most rugged outdoor metal stair treads. Ideal for use in the most heavily traveled, outdoor public stairways, these metal stair coverings hold up to in the harshest environments including, rain, snow, sleet and extreme temperature ranges.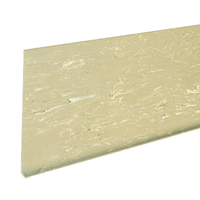 Stair Tread Risers and Stringers are available in both vinyl and rubber varieties and offer a smooth texture that matches all of our solid and marble colored rubber and vinyl stair treads. Both the length and height of these stair risers can easily be cut to fit. Coved risers provide a visually appealing transition from stair tread to riser thanks to their curved bottom lip. Stringers are smooth runner material that dress up and protect the sides of the stairway.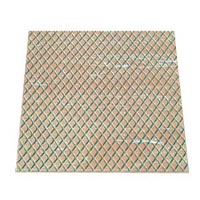 Rubber Floor Tiles come in designs and colors that match our rubber stair treads and risers. These factory cut floor tiles can easily be trimmed to fit any landing, vestibule, elevator or stairwell. Ideal for use in heavily traveled public walkways, rubber floor tiles offer a consistent design with our other stair covering protection products as well as improved traction on floors surrounding the stairwell. All rubber floor tiles can be adhered to the floor with several of the adhesives we offer.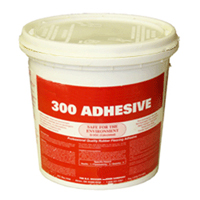 Several Adhesives are available to secure stair treads, stair risers, stringers and floor tiles to virtually any type of surface including wood, tile, metal, concrete, terrazzo and asphalt. These flooring adhesives offer different strengths, come in different compounds and have varying drying times depending on the adhesive selected. Most stair tread adhesives come in a variety of sizes. Stair tread nose caulk is also available to to fill any gaps between the tread and the nose of the stair.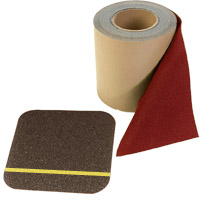 Anti-Slip Tapes improve traction on indoor/outdoor stairs, ramps and other locations where safety and slip-resistance are critical. These anti-skid tapes are available in two forms, both pads and rolls and come in a wide variety of colors to either blend into the surrounding environment or to provide contrast to catch one's eye. All of the non-slip tapes offered exceed all OSHA, ADA and ASTM requirements.
Fiberglass Stair Treads are grit-surfaced step coverings that offer extreme traction and ideal for use in heavy-duty commercial and industrial applications. The fire-retardant fiberglass is enveloped in a high-traction, carbide grit coating for superior traction in any environment and for use on metal, wood and concrete stairs and step ladders. Flat fiberglass floor coverings can be used for improved traction on ramps, handicap entrances, stair landings, and corridors.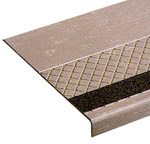 Stair Treads with high-traction grit strips and visually-impaired contrast strips provide a safer walking surface to prevent slip and fall accidents and increase overall stairwell safety while helping to meet city, county and state code regulations. Stair Treads with abrasive grit strips are especially useful for areas with greater exposure to moisture, greases and oils and can help minimize slippage, even in high-traffic environments.